This post contains affiliate links, which means I receive a small commission, at no extra cost to you, if you make a purchase using these links.
No matter where your kids go to learn, (or YOU for that matter 

) there is no doubt that they will manage to amass a home collection of books read for fun, books for learning and text books. Oh, and don't forget the student workbooks, notebooks and magazines. (Yes…it's SO EASY to end up with an amazing collection of print in this digital age…which is definitely A GOOD THING! 

)
Yikes! WHERE can you keep it all? You have limited space as it is, but need it to be easily accessible and easily viewable.
When my daughter was very young, we started the "Oh so fun & exciting" book collection for read alouds. I mean, seriously, everywhere you go, websites and everything in between have the most amazing books that you just know your kid will love. When I first started homeschooling, I attempted a formal approach with books on a shelf or bin stacked or side by side with the spine out. My daughter paid little attention to those. Then I remembered when I was an elementary librarian, the books that were checked out the most were the ones displayed in a way that students could actually see the cover (or get to it easily). I've noticed this with my child as well. She's more likely to pick up and read something that's laying out on a table or her work area when she sees the front of the book. I was about to buy some book shelves or cubes as our book collection was growing, but I didn't have much space to work with. 
What is the best way to store & display books without taking up so much space?
We have several books and learning materials that need to be easy to get to without taking up the whole room. Finding a way to maximize space while maintaining a productive learning environment is challenging.
But will it look neat & organized?
Organized, yes…neat, maybe not so much…but productive learning is a bit messy, right? I know that there are some who have a hard time with things not looking perfectly stacked. I am by no means a neat freak (sometimes I wish I was!), but I still had to let go of some control and neatness to let my child learn how to put things away, even if it is a bit messy. As long as it was in the right place and she knew where to find it, that empowered her to begin to learn how to organize things. Foundational organization skills.
Why do book storage & organization issues happen?
Even before your little ones begin the homeschool adventure, loads of fun books begin to accumulate. When my daughter was little, we had tons of great books we would read together. Some were on the lamp table, some in bins, some under the bed where I could reach them easily. If I wanted her to look at things herself, I would strategically place books on a table in her play area so she would naturally explore them herself. (I still do this at 11 years old. 😉 Now that she is older, there are more books I want her to be engaged in, but keeping them on tables, bins and the floor was starting to create a disaster area.
So I Found a Way to Overcome Book Storage & Space Issues
With limited space, I was happy to find a book display holder that didn't have a big footprint (Or a big pricetag). I was skeptical at first when I saw it on Amazon because it was not very big. I went for it and was able to fit about 24 books and a dozen magazines on it! This thing is small, but surprisingly, it holds A LOT of books and magazines of different sizes. The picture below shows the way we use it. My 11 year old child (who is almost as tall as me now!) uses it more than any other book holder or shelf I've ever used without being directed to.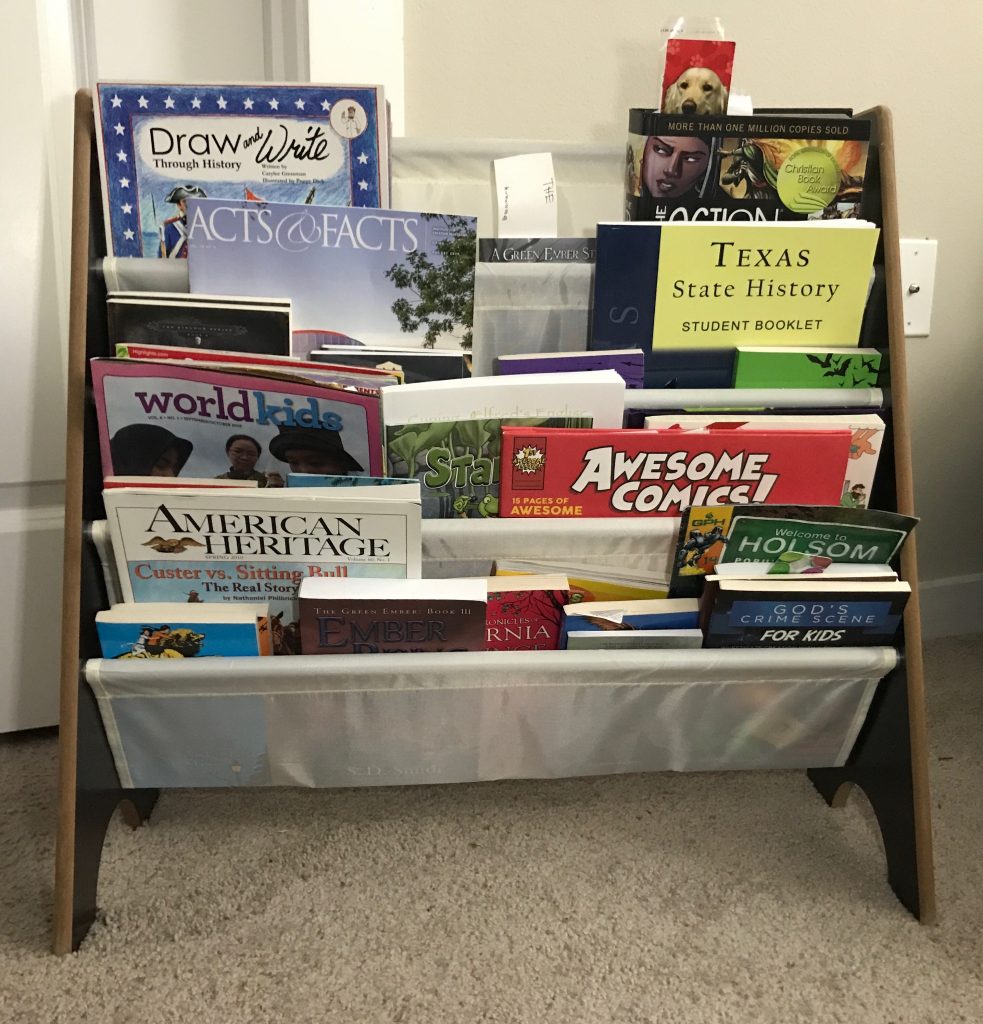 It's possible you may need a little bit more storage variety in a unit. I found another one that has really good reviews. It has about the same amount of sling shelves like mine, but adds some more creative storage. It's a little bit taller. It has storage boxes on the bottom and a safety feature with a wall anchor bracket.
Common Book Storage Questions
What is the best way to store books?
It has to be a system made to fit your family.
Thankful to simply have them all in one place? Just keeping books in one known area of the home will do the job. (Kind of like I'm doing for now…)
Need categories? Pick a common book area that has enough space to separate books by type, age level, or into categories that fit your family's needs. (This is why I may buy a few more of these…)
How do you store books without clutter?
How many of your books do your really need right now? Having another place to keep books that are not currently needed will reduce cluttering your "go-to" book area.
Use book bins or creative shelving options to keep them off the floor.
Teach, model and expect your children to keep that area organized by knowing where to put books when they are not being read.
The Last Thing You Need to Know about Book Storage & Display
Keep it "kid manageable". Even if books aren't put back perfectly, make it easy and fun for kids to put books back when finished. Having a system that's easy for kids to manage will allow you to enjoy more time reading to and with your kids.
Make sure the covers of books you want your kids to read and enjoy are easily visible. If you use something like the inexpensive book sling storage system I suggested, your kids will be more likely to walk by, pause and pick up a book when they see how cool the cover looks…or when they read an interesting title. (It totally works for my now 10 year old!)
What are some interesting ways you store books and homeschool materials?
Commit your work to the Lord,
and your plans will be established.
Proverbs 16:3 ESV